As we now know, the coronavirus is contagious when an infected person breathes, talks, coughs or sneezes, or when the virus is picked up from hard surfaces such as metal or plastic. This virus is highly contagious.
But, according to
many news media sources, masks do not prevent the coronavirus. However, Hyo-Jick Choi, a biomedical engineer at the University of Alberta in Canada created a mask coated in table salt that he says could neutralize viruses like the coronavirus in five minutes.
A mask that can kill harmful pathogens, rather than just block them Choi says. How? Because the molecular structure of salt
Photo credit: Macau Photo Agency
is crystalline; it has hard, sharp corners that can pierce viruses, rendering them unviable.
Interestingly, the multiple kelp salts used in the Herbalix® preservative might be even more effective than simple table salt. When used on the inside of a face mask, Herbalix Restoratives Respiratory Freedom® Relief Salve may be beneficial in protecting from the Coronavirus and other airborne pathogens. The *ingredients in the salve provide a barrier protecting the mucosal surfaces of the nose and mouth.
What's more, the salve also has the ingredient, Lemongrass (Cymbopogon flexuosus). According to a study published by PubMed.gov in 2017 entitled, "Inactivation of Norovirus by Lemongrass Essential Oil Using a Norovirus Surrogate System," this study investigated the effect of lemongrass essential oil (LGEO) on the infectivity and viral replication of norovirus. Murine norovirus 1 (MNV-1), a surrogate of human norovirus, was preincubated with LGEO and then used to infect RAW 264.7 cells in a plaque reduction assay. LGEO exhibited a significant reduction in MNV-1 plaque formation in both time and dose-dependent manners.
Herbalix Restoratives Respiratory Freedom® Relief Salve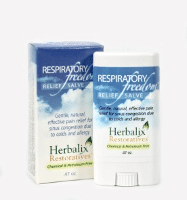 A natural moisturizing salve stick, Herbalix Restoratives Respiratory Freedom® Relief Salve can be used to relieve symptoms of sinus pressure, nasal and chest congestion due to everyday environmental allergens like synthetic fragrances, dust, and pollen. It also helps relieve symptoms from the common cold including postnasal drip, cough and neck stiffness.
To use, wash hands thoroughly before applying a light coating of Respiratory Freedom® Relief Salve around the edge of the mask. Allow two to four minutes to absorb in the mask. Keep mask away from eyes, trial wear to adjust to a comfort level. The salve will release vapors to help keep surfaces clean of air particle contaminants. Wear once and then dispose. Respiratory Freedom can also be applied directly to facial surface areas (around nose, eyes).
*Respiratory Freedom Ingredients: Rice Bran Oil (Oryza sativa), *Cocoa Butter (Theobroma cacao), Shea Butter Sustainable (Butyrospermum parkii), Virgin Mango Butter (Manigifera indica), Beeswax (Cera flava), *Sweet Almond Oil (Prunus amygdalus dulcis), *Jojoba Oil (Simmondsia chinensis), *Avocado Oil (Persea Americana), *First Pressed Extra Virgin Olive Oil (Olea europaea), Chamomile (Matricaria chamomilla), White Camphor (Cinnamonum camphora), *Lemongrass (Cymbopogon flexuosus), *Tea Tree Oil (Melaleuca alternifolia), Essential Oil of White Birch (Betula Nigra), *Eucalyptus Essential Oil (Eucalyptus globulus), *Rosemary Essential Oil (Rosmarinus officinalis), and Herbalix™ Organic Preservative (Antimicrobial Preservatives Effectiveness Evaluation Test Product: Durga Herbalix™ Study #060407-