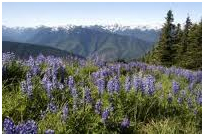 Herbalix Restoratives' manufacturing facility is located in the heart of the Olympic Peninsula situated directly on Puget Sound in Port Ludlow, Washington. Originally settled by members of the S'Kallam tribe, Port Ludlow was named in 1841. The Olympic Peninsula is home to the only temperate rainforest in North America. There are hundreds of species of plants native only to the Olympic Peninsula.
In 1853, Port Ludlow became the site of one of the Northwest's earliest sawmills, and for years it was a profitable shipbuilding town, until during the Great Depression when the mill was closed in 1935. However, the 1950's brought a new post-war population growth creating a market for recreational home sites and property.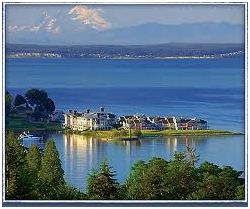 At Herbalix we believe that in order to make our world a better place, we need to participate in grass roots efforts. We are committed to helping Port Ludlow maintain the integrity of the community's natural environment. We support the Port Ludlow Marina which has healthy colonies of eelgrass.
Our property is used for growing organic vegetables, flowers and herbs. The land is home to bald eagles, ospreys, swallows, and abundant wildlife. We also harbor a beautiful salmon stream, encroaching and retreating tidelands, colorful alder trees and large evergreen cedars.
Herbalix Restoratives products are made in a stringently controlled lab environment with respect for quality and purity during each step of the manufacturing process. Our manufacturing equipment consists of stainless steel tanks, stainless steel paddles, and stainless steel piping. All plastic, silicone, or other harmful components have been removed and each piece has been retrofitted to insure totally clean processing. In other words, none of our raw materials pass through plastic at all!
Herbalix only uses packaging that is safe, ingredient-protective, and environmentally sound. All plastic packaging used in the Herbalix Restoratives product line is identified and accepted for recycling. Our packaging is BPA free and  leach-free, so that your products remain free of phthalates and other second-hand synthetic chemicals. Herbalix boxes are also fully recyclable
What's more, Herbalix is committed to clean energy and America taking responsibility for cleaning up the environment by switching to clean energy, alternative fuels, and green building designs.
We participate in a number of organizations ranging from social responsibility to sustainability including The WaterKeeper Alliance, the voice for the world's waters. Founded in 1999 by environmental attorney and activist Robert F. Kennedy Jr. and several veteran Waterkeepers, the Waterkeeper Alliance is a global movement of on-the-water advocates who patrol and protect over 100,000 miles of rivers, streams and coastlines in North and South America, Europe, Australia, Asia and Africa.
Help us support Waterkeepers and make a donation in our company's name today.